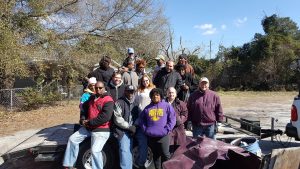 Cape Fear Habitat for Humanity, New Hanover County Planning and Inspections and volunteers gathered for a much needed spring cleaning of an old Maides Park cemetery. Volunteers cut through overgrown trees, brush, and branches, to restore the cemetery to it's original condition.
"We've got a lot of homeowners in this neighborhood as well, so we thought it was important for us to come out and support the neighborhood," said Josh Rammel, with the Habitat for Humanity. "Support the families in this neighborhood, that have families in the cemetery, and help just take care of a piece of history in this neighborhood."
"Whether it's something as small as a cemetery to other projects that are going on when you have a whole community that is really passionate about something and wants to get something done, when you mobilize, you can see how it gets done even in just an hour and a half," said Dylan McDonnell, with New Hanover County Planning & Inspection. "I didn't get to see what happened until I got out here, and wow it's great."
The cemetery dates back to the 1800s, and was originally owned by James and Mitilda Maides, who owned a peanut farm in the area.
Copyright 2016 WECT. All rights reserved.