In years past, the non-profit aimed to build about 12 homes per year. This year, that number is doubled and volunteers are also taking on other kinds of jobs.
"We never used to do repairs and now we are doing rebuild projects for houses that were damaged by the hurricane and then we decided we would somehow, some way double our production," said Habitat for Humanity Executive Director Steve Spain. "It's so important as we help the community recover from Florence that we be able to build houses faster."
Three women became new homeowners Friday thanks to the "Builders Blitz." Habitat partners spent seven days building three houses from the ground up. Maryee Jones and Serena Williams were both displaced after Hurricane Florence last year.
"If you had told me that this was going to be my life I wouldn't have believed you because it was so hard last year," Jones said. "They made something that I thought was totally impossible or years down the road, become something that happened in a matter of twelve months."
Spain said these homes are a drop in the bucket when you look at the greater need for affordable housing in New Hanover County "but the reality is every affordable home we build is a family who has safe, reliable, affordable housing and that goes down for generations as their children and others get to enjoy these affordable homes."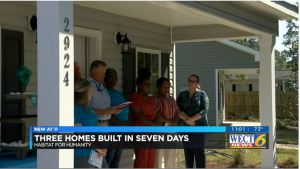 watch the full story here
While they'll all soon move into their homes with shiny new bathrooms, floors and appliances, Williams says she's simply ready to be settled down.
"To know that it's permanent, it's permanent for me. Just to be able to know that I'm secure in my home," she said.
Williams hopes her story will be an inspiration for others. Her application was not approved initially, but she met with Habitat staff and did the work to clean up her credit report and was then approved.
Habitat homeowners are also required to pay in 'sweat equity.' They must work several hundred hours on other Habitat projects.
"Its hard, but you just have to make up your mind that you want it. I'm 61, and I go out and work in the sun, I dig, I hammer, I nail, I put up siding, I've put up windows, I've done all of that but it's worth it. The time is worth it if you really want it," Williams said
Copyright WECT 2019