BURGAW, NC (WWAY) — Nearly a year ago, Hurricane Florence struck the Carolinas taking a hard hit to Pender County, but some families were still repairing from Hurricane Matthew.
In just a week, Cape Fear Habitat for Humanity was able to restore and repair Mozell Craft's home back to quality living standards.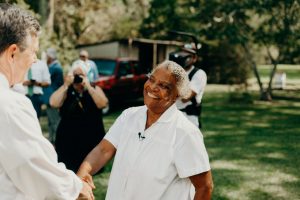 Photo by Coy Rigdon
"It's a blessing," Craft said.
Craft says the group was heaven sent; completing what she simply could not afford.
"They repaired my roof," Craft said. "They repaired several of the outlets in my house. They repaired a heater in the dining room. They did a lot of painting on the ceilings in the house."
Craft's home was first hit during Hurricane Matthew in 2016, and then again, with Hurricane Florence last year. Governor Roy Cooper stopped by to see the finished home.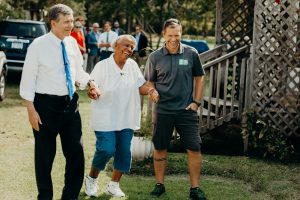 Photo by Coy Rigdon
"We know that long term affordable housing is a challenge for eastern North Carolina, particularly after these storms have struck and we are working to try to pull every single lever we can to give people help," Cooper said.
Cape Fear Habitat for Humanity says Craft is not alone and other residents on her street also have had some repairs. On the heels of another hurricane season, Cooper spoke with Craft about Dorian.
"I know a lot of people in southeastern North Carolina were apprehensive about the storm coming and saying 'Oh no, not again,'" Cooper said. "But, as Mozell told me, she prayed about it and fortunately it didn't happen this time, but she would have been ready for it if it had happened."
Craft says Cape Fear Habitat for Humanity lifted a huge financial burden for her.
"…and I just thank God for it," Craft said.
Copyright WWAYTV3 2019